Tom DD
Tom DD is our twin arm over-rolling machine. Due to its way of gluing the leaf it is guaranteed that there will be no loose wraps, even after middle cutting. As of its flexibility, it can produce all popular cigars. Tom DD is designed to over-roll quality bunches at higher speeds.
Machine benefits
√ Smart spraying system

√ Automatic bobbin side control

√ No loose wraps because of the unique glue sytem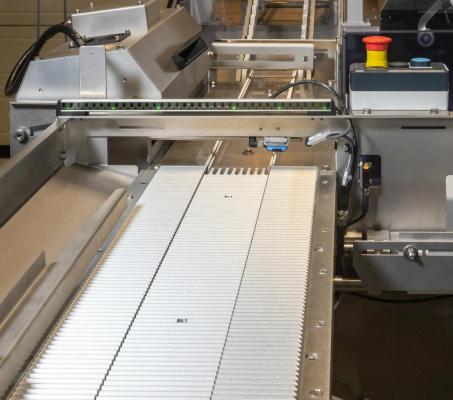 Trayloader
The Tom DD is coupled to VDL PMB's compact and middle speed, cigar tray loader TF-4. The tray loader can either be an stand-alone machine or be placed next to any middle speed cigar machine, whether it is a MI-BUD, low speed over-rolling machine, a MI-P middle speed over-rolling machine or a TOM Twin-arm over-rolling machine. It can easily handle up to 120 cigars per minute. Upon choice the TF-4 can fill trays or bundles with plastic straps. The trays will be exchanged automatically.
Machine benefits
√ Speed up to 125 CPM

√ Compact, minimum floor space

√ Easy access to the product